English
A book is the only place in which you can examine a fragile thought without breaking it, or explore an explosive idea without fear it will go off in your face. It is one of the few havens remaining where a man's mind can get both provocation and privacy.

Edward P. Morgan
Introduction to course
Students will follow the English National Curriculum at both KS3 and KS4. We offer a varied, engaging and challenging curriculum to students regardless of ability. We aim to foster a love of reading, a curiosity for the world through literature, and to develop both students' literacy and creativity: essential skills for all students as life-long learners.
Syllabus content for Key Stage 3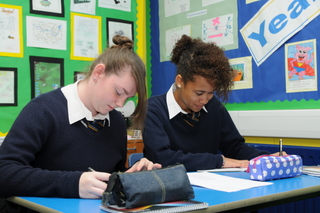 Students study a range of texts at KS3, including Shakespeare (each year of KS3), prose, poetry, non-fiction and media texts. Students are guided in their development as creative, fluent and accurate writers. Students can expect a range of activities in their lessons and personalised feedback in order to achieve and exceed their potential. We believe that wide reading is core to any students' educational career, therefore all students take part in DEAR (Drop Everything and Read) each week, which rotates across the school timetable in all lessons throughout the year; students also have a library lesson each fortnight. Students in Years 7 and 8 have fortnightly literacy lessons to help students improve their accuracy as writers. In Year 9, students complete an introductory course to GCSE Drama, which aims to develop the foundation skills needed for the course. We believe that homework is essential to the success of our students, therefore every student has a homework book dedicated to recording reading logs and other assignments which will help students become independent learners: an important skill for the GCSE course. Students are assessed throughout the year with a variety of assignments, culminating in an end of year assessment of reading and writing.
Syllabus content for GCSE
The English GCSE will be either two GCSEs – English Language and English Literature, or a single qualification known as English. We follow the AQA exam board and most students will take both English Language and Literature.
For those students in Year 10 and 11, currently studying for their GCSEs, English Language takes the form of one exam and controlled assessments. In the exam, students are assessed on their ability to read and understand non-fiction and media texts, and their competence in writing in a range of forms. The examination is worth 60% of the final grade. Students will complete a minimum of three mock papers in preparation for the final examination. Students will also study Spoken Language – either their own speech, or speech in a public forum. For English Language, students complete four pieces of Controlled Assessment - usually an essay completed in timed exam style conditions. The controlled assessment portfolio is worth 40%. For students in Year 9 onwards, the GCSE will be a 100% exam-based assessment.
For English Literature, the course covers a combination of twentieth century and pre-twentieth century prose, drama and poetry, and at least one Shakespeare play. The study of Shakespeare is completed as a controlled assessment. There are two examinations for English Literature: a modern text examination and a poetry comparison examination. Again, for Year 9 onwards, the course will be graded with examinations only.
Typical lesson activities
Lesson time is devoted to reading and exploring novels, plays and poems, using a range of challenging and varied teaching and learning techniques. Non-fiction texts, including media texts, are used to stimulate ideas and debate. Group discussion and role play are common activities in English. Discussion is invariably followed by writing, in which students are encouraged to develop a personal response to texts and ideas. Creative writing, original research projects, and a film study are also characteristic in English lessons.
SMSC
The development of students' social, moral, spiritual and cultural awareness is at the core of our curriculum: we explore spirituality, for example, by analysing religious references in Shakespeare's plays; we develop students' understanding of morality, and their own moral conscience, by examining human interaction and responsibility as explored by writers in the various texts we read, for example, civilisation vs. disorder in Golding's 'Lord of the Flies'; we explore different cultures and traditions in, for example, poetry, with a strong focus on the British Literary Heritage. Finally, culture and society are examined in order to understand a particular writer's ideas and intentions, while in students' own writing, we encourage students to be aware of their world and, fundamentally, their place within, what we all hope to achieve: a fair and just society.