ICT & Computer Science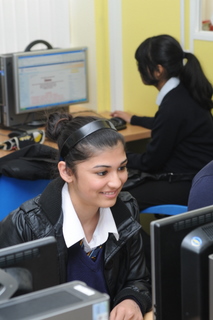 Introduction to ICT and Computer Science
In ICT and Computer Science, students follow the national curriculum and study a range of topics from both the ICT and Computer Science sections.
Syllabus content
At Key Stage Three students complete topics around: e-safety, graphic and website design, programming and presentation skills. Each piece of work is broken down into a common structure of; understanding, planning, developing and evaluating.
At Key Stage Four students will study a course based on their skills identified in Key Stage Three, this will be either: GCSE ICT or Cambridge Nationals in ICT (Level 2).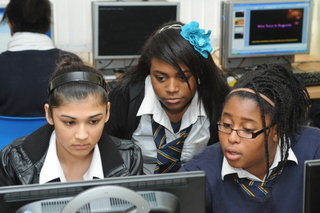 The GCSE ICT focuses on the core skills and understanding of how the world functions with ICT and its varied uses. The course involves the students completing coursework focusing around a theme for example 'Charity Events' or 'Music Festivals'. The coursework requires the student to complete research about the event, work out the costs of running the event and finally advertise the event. The students will also have to sit an exam at the end of the course that will test their knowledge of how ICT is used in the wider world.
The Cambridge Nationals in ICT focuses more heavily on a creative curriculum, allowing students to design and build websites, apps and multimedia. For each unit, students are required to plan out and design their idea, create the idea using appropriate software and then test the quality of the final product. The students will also sit an exam at the end of the course focusing on the use of ICT in the wider world.
Typical Lesson Activities
● Group Discussion on a range of ICT based issues: Copyright, Social Networking and Connectivity
● Undertaking research to collect data for different given scenarios
● The creation of ICT based products using a range of computer facilities
SMSC considerations in ICT
To address the spiritual needs of the students within ICT we strive to ensure that students get to explore their own creativity and construction when creating products. We encourage good etiquette within the subject, focusing not just on aspects of e-safety and mobile phones but also within personal situations that develop. ICT facilitates the ability to allow students to support each other in their actions through a balanced curriculum that gets students helping each other in making good progress every lesson. As a department we also encourage students to be aware and appreciate the differences in access of ICT and the impact and expectations that are reflected in different cultures.