Mathematics
Introduction to course
All students follow the National Curriculum in Mathematics and are entered for the GCSE examination at the end of Year 11. The level of entry for GCSE, either Foundation (Grades C - G) or Higher (Grades A*- D) is decided during Year 11.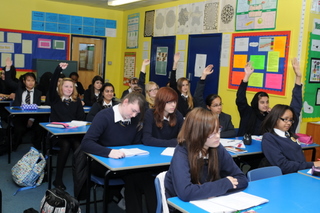 Assessment of students' progress will take the form of classwork and homework and formal written tests. Problem solving and knowledge of formulae will also be assessed.
Students are set in Maths from the start of Year 7, sets are fluid and there is likely to be change throughout the year.
Studying Maths will allow your daughter how to develop the following skills:
Problem solving
Logical reasoning
The ability to think in abstract ways
There are many ways in which you can help your daughter with Maths:
Encourage your daughter to practise mental arithmetic- working out change in shops, etc
Using timetables
Learning times-tables and formulae
Websites to visit: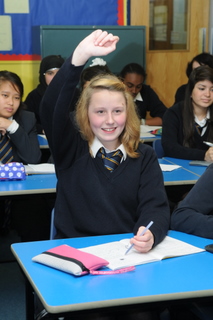 www.coolmath.com
- this fully interactive site and allows the user to sharpen basic maths skills, play games and explore new math concepts
www.mymaths.co.uk
- your daughter should have her own login and password for this site.
Syllabus content for KS3
The Key Stage 3 Maths programme follows the renewed KS3 National Curriculum. The programme is differentiated according to the students' ability.
They will learn how to understand:
Number and algebra - this includes numbers and the number system, calculations, ways of problem solving and algebra.
Shape and space - measure, shape and coordinates.
Handling data - working out which questions can be answered by collecting data, processing it and working out what it tells us in answer to the original questions.
Using and applying Mathematics - solving increasingly demanding problems, including problems that call for them to think through several steps.
Students will be expected to learn formulae to be used in formal assessments as this will be required in GCSEs sat from June 2017 onwards.
Syllabus content for GCSE
Mathematics is a compulsory subject at GCSE. The GCSE Mathematics course is based upon the Edexcel GCSE Mathematics: Linear Specification A. The work demanded of this subject is a continuation of the work covered from Key Stage 3. The GCSE course encompasses four main areas of mathematical knowledge: Number, Algebra, Handling Data, and Shape Space & Measures. The students develop a skill base and then learn how to apply these skills to solving problems. All students study GCSE Mathematics Higher (Grades A*-D) or Foundation (Grades C-G). Both courses cover similar content at Higher and Foundation level. A decision will be made as to the tier of entry prior to the examination based on prior attainment, mock examinations and general teacher assessment.
Externally assessed
Exam sat in June of Year 11
Any student not gaining a C Grade at the end of Year 11 will be required to continue GCSE Maths post-16.
Overview of Content
· Number
· Algebra
· Geometry
· Measures
· Statistics
· Probability
Overview of Assessment
· Two (1 hour 45 minutes) written papers: each contributes 50% of the final grade
· Tiered papers
· Foundation Tier grades C-G available
· Higher Tier grades A*-D available (E allowed)
· 100 marks on each paper
The functional elements (application of Mathematics to practical, real life problems) of mathematics are assessed on each paper.
Please note that this will be changing for pupils currently in Years 9 and below, those who will take their GCSEs in the summer of 2017 and beyond. The new reformed GCSEs will be sat for the first time in the summer of 2017.
Typical lesson activities
● Written exercises
● Investigational work
● Practical activities
● Group work
● Paired work
● Individual work
● Mental/oral/aural practice
● Note making and taking
● Topic revision and testing
Don't forget…
Make sure your daughter is properly equipped for Maths - they should have a ruler, protractor, pair of compasses, calculator, pen, pencil and their Maths books for every lesson!
Equipment is also available from school.
SMSC
Mathematics is important in everyday life and we all use Maths every day. Your daughter will find that many jobs require an understanding of mathematical concepts. Most subjects use ideas encountered in Maths. The skills learnt in your daughter's Maths lessons will also aid her in understanding and application of Maths in life after Reading Girls School, such as using a bank account, exchange rates for foreign travel or checking accuracy of bills. The skills of analysing data are taught from Year 7 to enable students to make sense of vast amounts of data available in the modern world around them. Students will explore moral issues whilst conducting an opinion surveys and will be made aware of stereotypical bias potential in questioning. Problem solving skills and teamwork are fundamental to Mathematics, through creative thinking, discussion, explaining and presenting ideas, students are always encouraged to develop their Mathematical reasoning skills, communicating with others and explaining concepts to each other. Self and peer reviews are very important to enable students to have an accurate grasp of where they are and how they can improve. Mathematics is a universal language with a myriad of cultural inputs throughout the ages. Students are encouraged to use various approaches to Mathematical problems including the Chinese lattice method for multiplication.
Maths is a core subject and it is therefore compulsory that it is studied up to school leaving age at 16.