Modern Foreign Languages
FRENCH/SPANISH – GCSE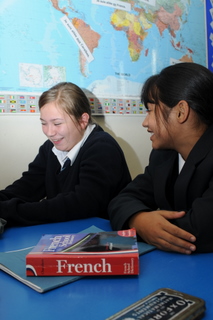 Introduction to course
Students may study French and or Spanish in Key Stage 4 as a full GCSE. All students will follow the AQA GCSE syllabus in which the four skills of Listening 20%, Speaking 30%, Reading 20% and Writing 30% are equally weighted. All skills are examined at the end of the 2-year course or prior depending on the ability of students, but the controlled assessments are conducted in year 10 and in year 11.
Syllabus content
KS3
In year 7, pupils start work at level 1 by learning to ask and answer simple questions about themselves in French. They learn the names of classroom objects and some basic rules for pronunciation and spelling. They build on much of the prior learning in the previous units and provides pupils with an opportunity to use the language they have learnt throughout the year to communicate on the subject of hobbies and interests. They are expected to complete the year at level 3 or higher.
In year 8, pupils learn about other countries, capital cities, nationalities & way of life including those in which French is spoken and finish the year learning how to say what they need and do not need, using il faut. They also learn to express gratitude and consolidate the language of description presented in previous units to finish the year at level 4 or higher.
In year 9, pupils consolidate and extend their knowledge of the perfect tense. They learn to talk and write about a variety of past events in a wider context of the international world. They work between levels 4 and 7.
KS4
Topics to be studied fall under the following themes:
Lifestyle
Leisure
Home and Environment
Work and Education
Typical lesson activities
These may include:
Listening to – audio files and understanding specific points
Speaking – giving information and seeking clarification, giving a short presentation
Reading – understanding a variety of texts, for instance leaflets or advertisements
Writing a variety of texts e.g. personal e-mails, brochures, short narratives
To increase opportunities in higher education
To improve career prospects at home and abroad
SMSC
Learning a language inevitably addresses all aspects of the countries, and continents in which the language is spoken. Understanding of spiritual, moral, ethical and social issues is developed through contexts and topics such as: greetings and introductions, local area and environment, countries and cultures and health and fitness.
Understanding of economic issues is developed through the following contexts and topics: learning the time, understanding currencies and planning a holiday. Understanding of cultural issues is developed through the study of all contexts and topics.