Science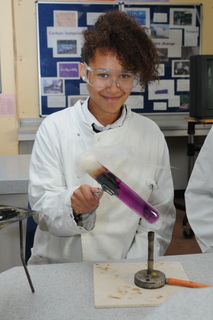 Introduction to course
This course will enable students to cover all aspects of the science curriculum and gain a greater understanding in how science works in everyday situations. This new course is made up of two parts – one of which is the core curriculum that all students must follow. All students will take this core course and it is worth one GCSE.
Syllabus content core topics: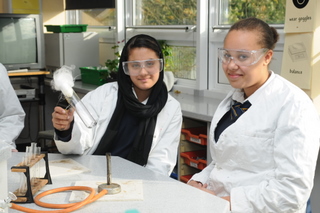 Key Stage 3
Students in Years 7 to 9 receive six one-hour lessons over the two week timetable. Students follow practical and theoretical approaches to their studies. Students are taught in ability sets in all year groups. The department has embraced the changes required in the Key Stage 3 curriculum and students are encouraged to undertake study at all levels. This is assisted by the provision of a multimedia approach using the excellent technology facilities within the school
Key Stage 4 Topics include:
Biology 1
Keeping healthy
Nerves and hormones
The use and abuse of drugs
Interdependence and adaptation
Energy and biomass in food chains
Waste materials from plants and animals
Genetic variation and its control
Evolution
Chemistry 1
The fundamental ideas in chemistry
Limestone and building materials
Metals and their uses
Crude oil and fuels
Other useful substances from crude oil
Plant oils and their uses
Changes in the Earth and its atmosphere
Physics 1
Energy transfer
Energy and efficiency
The usefulness of electrical appliances
Generating electricity
The uses of waves
Additional Science topics include:
Biology 2
Cells
Tissues, organs and organ systems
Photosynthesis
Organisms and their environment
Respiration
Cell division and inheritance
Speciation
Chemistry 2
Structure and bonding
Atomic structure, analysis and quantitative chemistry
Rates of reaction
Exothermic and endothermic reactions
Acid, bases and salts
Electrolysis
Physics 2
Forces and their effects
Kinetic energy
Electricity
Atoms and radiation
Life cycles of stars
Triple Science (Further Science) involves the study of topics already covered in greater detail to challenge students further.
Typical lesson activities
Students will take the fundamentals of biology, chemistry and physics and use them to explain phenomena and solve problems. They will look at how science works in the real world and apply scientific reasoning to real life applications. They will undertake research using computers, carry out written activities and embark on practical work. They will also take part in practical investigations to develop their skills in planning, analysing and evaluating.
SMSC considerations in Science
Understanding the spiritual, moral, ethical and social component of issues is developed through contexts and topics such as: keeping health;, controlling fertility which looks at the ethics of decision making in having babies artificially; environment sustainability; the ethics of using genetic engineering and cloning methods. Evolution is studied and give students an opportunity to share their thoughts on how life began, what caused life to begin on Earth. In Chemistry and Physics, SMSC is supported when discussing how to ensure that the Earth is Sustainable in terms of recycling materials and conserving fossil fuels.
Opportunities for extended studies are encouraged through the Building Bridges Project with the Science Museum and through interaction with other teams from reputable scientific establishments, the appointment of Science ambassadors, involvement in the Science club and the attendance of after school seminars given by guest speakers with a track record of success in their scientific field. Involvement in these activities enables students to be confident, communicative team players in the wider community.