Weekly Newsletter
Principal's Message - RGS in top 5% of UK state schools
I am very pleased to report that when the validated GCSE results are released later in the year, Reading Girls' School will be seen to be performing inside the top 170 of the 4168 state schools across the country. I would like to take this opportunity to both congratulate and thank all pupils, parents and staff for their commitment, effort and drive last year.
Subsequently, it is time for RGS to command the respect that it deserves from the communities across and beyond Reading Town. When I joined this fantastic school one year ago, I said that it was a sleeping giant and if it was not consistently performing in the top 5% of all schools nationally, then we will all have failed the pupils. The best quality about our school are the pupils in it. They deserve to be justifiably proud of their school.
As a local resident of Whitley Wood for the past 20 years, I understand the community. As Principal of RGS for the past year, I challenge anybody who talks about our school in the same breath as the reputation that the public attached to the school over the past 5, 10 and 15 years.
Whilst I acknowledge that the school has gone through a turbulent time since 2015 in particular, I can unreservedly tell the public that the current RGS is nothing like the out-dated reputation that some people believe. Put simply, everyday is open day at RGS and I invite anybody to come and see us in action without booking appointments, a strategy which most schools deploy to buy time to stage a presentation tour of the school led by staff fed with crib sheets. We have nothing to hide at RGS and are proud of our girls.
Contrary to some public belief, RGS does not have an Ofsted report because it is in its second year of a new chapter under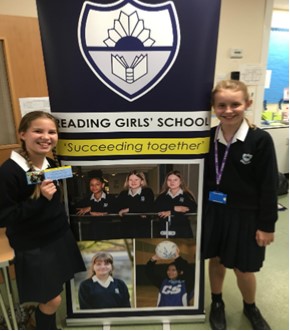 the banner of Baylis Court Trust. Unfortunately, there is not enough education out there for the public about the relevance of Ofsted reports. You will find schools across the country with a 'good' or 'outstanding' Ofsted grade yet they are new schools with only three year groups and do not have any GCSE results to prove their impact or arguably justify their grading. Arguably, Ofsted reports are out-dated within a short period of time of the award.
We will continue our crusade until RGS has the reputation it deserves. I am visiting all Primary schools to get our message across and our pupils are talking to prospective parents at Primary Schools about their experiences and how great their school is.
Iris Collin (left) and Isabella Dyrelund (right), hard at work promoting RGS at Caversham Heights Primary School this week.
Regards
Jon Gargan, Principal
A weekly newsletter is emailed to parents each Friday. If you are not receiving it, please let us have your up-to-date email address via admin@readinggirlsschool.net
Download this week's newsletter below